Module Options
PATS is even more powerful when you add the value of our modular tools and applications.
Interface module
PATS Interface module is an ideal way to reduce FTE burden commonly associated with manual data collection and entry. If data required for select PATS registries resides in other information systems—ADT, for example—on the same network, you can easily set up routines to automatically transfer the data electronically. The result is saved time and money. It's truly that simple!
Key benefits:

Communicates with leading PACS and hemodynamic systems
Eliminates data-entry redundancy, especially when
combined with PATS standard registry interoperability
Reduces FTE resources for outcomes data management
Expedited front-end data collection and entry

Compatible with:

HL7 (any version)
XML
Delimited ASCII
Other formats
Audit Trail module
PATS Audit Trail module generates and maintains a real-time journal of all data transactions, allowing you to track activity, monitor user performance, and investigate suspected errors and/or discrepancies. A separate journal logs all security setting transactions.
Many healthcare organizations view PATS Audit Trail as mandatory and essential for HIPAA compliance and research protocol.
Track details like:

Data additions, deletions and changes
User logins (successful and failed) and logouts
User account setting changes
System level security setting changes

Recorded transactions include:

Date/time stamp
User name
Client workstation IP address
Import module
With PATS Import module you can import data to a PATS registry from any delimited file. It is ideally suited to data needed on a one-time or periodic basis as opposed to a real-time basis.
Data sources can be internal or external, large or small — everything from a commercial EMR to a homegrown application, even an Excel spreadsheet. There are no restrictions regarding the type or amount of data. Import Module can be used to convert historical data and to build directories of physicians, devices, medications, procedure codes, etc.
You control the full import process. Begin by creating a template that maps data from a source file to a PATS registry and once complete, you initiate the import process whenever desired.
Take control of your data!
PATSweb
PATSweb is a browser-based companion to PATS (cloud or on-prem) for data entry and PATS data maintenance. You can access patients and registries, add entries, and perform data validation. PATSweb data transactions link dynamically and save to the PATS database—real-time, global data recognition. All you need is a PC device with internet access!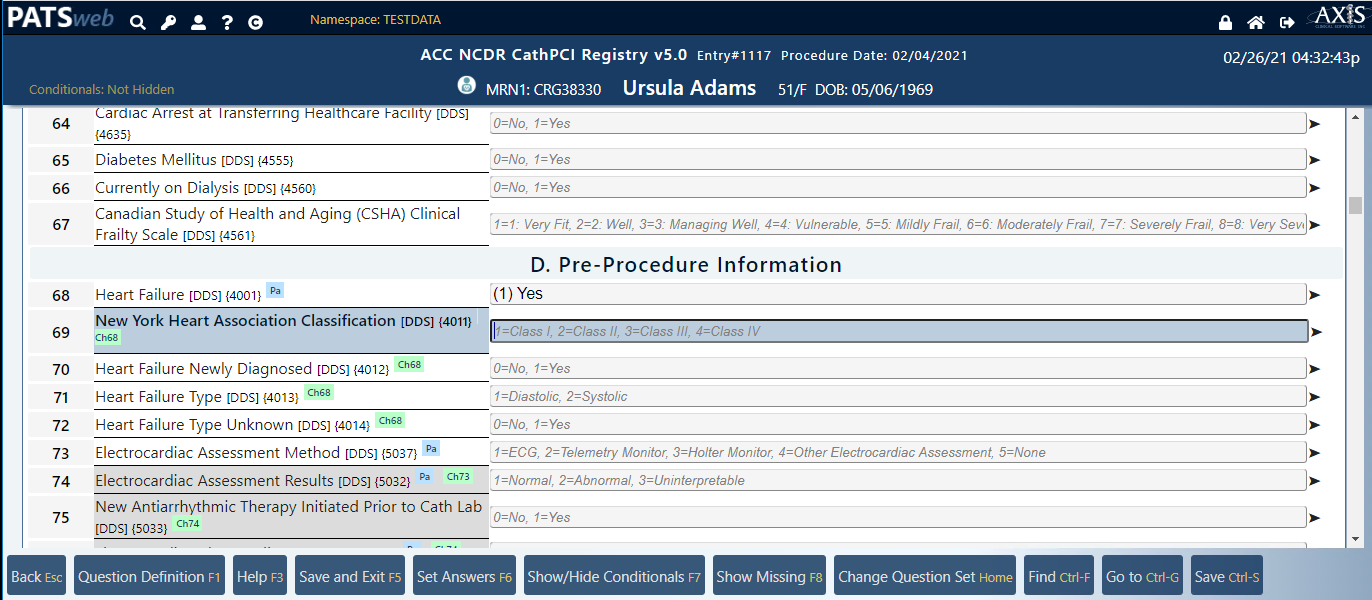 Efficient
Lightning quick, responsive keyboard and mouse navigation
Real-time data entry validation and completion check
Customizable form views that include question sets, unanswered questions only, and currently available conditional (child) questions (based on answered parent questions)
Easily review any question's conditional relationship(s), data definition, calculation methods, and validation criteria without ever leaving the entry form.
Ideal
Perfect for:

Entering and maintaining PATS patient data by staff not
connected by a common computer network
Staff responsible for data entry and lookup tasks
that don't require full PATS functionality

Work from anywhere:

Satellite clinics
Home offices
Travel destinations
ANYWHERE
PATSweb's Eligible Patient/Case List imports basic demographic and clinical data from your other systems to create an easy-to-evaluate list of potential PATS registry and demographic entries. With a few simple clicks, you can create a new registry or patient record. Smart interface imports only patients and procedures with billing codes that typically, uniquely correspond with specific registries.